At any one moment, well over forty musicals are running on London stages, mainly in the West End. Even if your interests as a songwriter do not lie in the direction of the musical stage, seeing a live performance of one of the top shows is an experience no songwriter should miss.

SHOWS

The top ten most popular shows on the West End right now are

• 'The Lion King' at the Lyceum Theatre

• 'The Phantom of the Opera' at Her Majesty's Theatre

• 'Wicked' at the Apollo Victoria

• 'Mary Poppins' at the Prince Edward Theatre

• 'The Book of Mormon' at the Prince of Wales Theatre

• 'Mamma Mia!' at the Novello Theatre

• 'School of Rock' at the New London Theatre

• 'Tina - The Tina Turner Musical' at the Aldwych Theatre

• 'Thriller Live' at the Lyric Theatre

• 'Matilda The Musical' at the Cambridge Theatre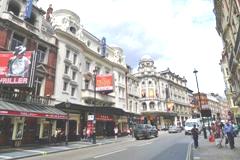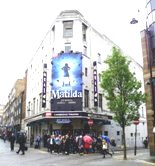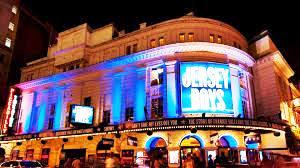 TICKETS

Although it is not always easy to obtain tickets at very short notice for the best-selling musicals, agencies like Ticketmaster can often help when all fruit fails.

For musicals, prices range from £20 to £80 per seat, but tickets for several of the shows (although not usually hits such as "Les Miserables" or "The Phantom"), can be obtained at half-price plus a small booking fee, on the day of the performance, from the Half-Price Ticket Office in Leicester Square.

HALF-PRICE TICKET OFFICE

This building is positioned in front of the red-bricked Radisson Hampshire Hotel (see picture at the top of this page).

The queue forms around 10.30am (but the office is open until late afternoon), and once it opens, they service purchasers very speedily. If you want to see what shows are available for that day, simply look at the black notice-boards in front of the booking office.

In mid-summer, the queue can be quite long, but if you turn up around 11am, you should be the proud possessor of half-price tickets for that day's performance, by at latest, noon.

One word of warning - the charming gentlemen who wander up and down in front of the booth offering tickets, do not necessarily have any connection with the Half-Price Booking Office.

Their tickets are (usually) genuine alright, but you may find yourself paying £50 to sit sixty rows back, or else behind a large pillar!





LOCATIONS

Most of the theatres lie within easy walking distance of each other, and restaurants of all types, prices and styles abound in Theatreland, so it is possible to dine out reasonably on the evening of your theatre visit.

Keep in mind that whereas some plays start around 8pm, musicals always start at 7.30pm, but very few of the main theatres are more than a ten-minute stroll from Leicester Square anyway.

However, do check your theatre on the map in front of the office - there are a small number of theatres in the Victoria area, which is some distance from Leicester Square as well as a number on the Strand.

Remember, if you do not wish to overnight in London, then every musicals has one (or two) afternoon shows each week, starting around 2.30pm in mid-week, and in some cases, as late as 5.30pm on weekends.

To know which shows offer afternoon performances, look up any local newspaper, or one of the theatre sites.

For an excellent update on what is happening - go to the London Theatre Guide

which gives details of shows in London, and information on how to book tickets

Before deciding on which tickets to buy, you should look at a site which gives up-to-date, interactive seating plans. One such site also features seat reviews and photos from seats to help you book the right tickets. Simply go to SeatPlan and make your choice having reviewed the theatre in question.

Theatre tickets for London West End theatres, discounted and occasionally as low as half-price can also be got from LastMinuteTheatretickets

ISA • International Songwriters Association (1967) Ltd
PO Box 46 • Limerick City • Ireland • Tel 061-228837 • Fax 061-2288379
ISA Website http://www.songwriter.co.uk • Editorial E-Mail internationalsongwriters@gmail.com

International Songwriters Association Limited
Registered In Dublin, Ireland • Company Number 38917
Registered Address • High Chaperal, Raheen Heights, Limerick City, Ireland
Postal Address • PO Box 46, Limerick City, Ireland